The Study Buddies 2023 Winter Program runs from January 30th to May 10th.
Study Buddies is a free academic-support program designed for children in grades 1-8. A small group of children is paired with a Study Buddy, who is a volunteer from a local high school or an adult from the community. In addition to providing homework help, the program also focuses on relationship building and mentorship. In addition, volunteer groups prepare and serve food to the children beforehand.
To help keep everyone safe, we require each participant to follow these guidelines: wear a mask at all times, stay home if sick, and follow any additional safety rules created by the staff.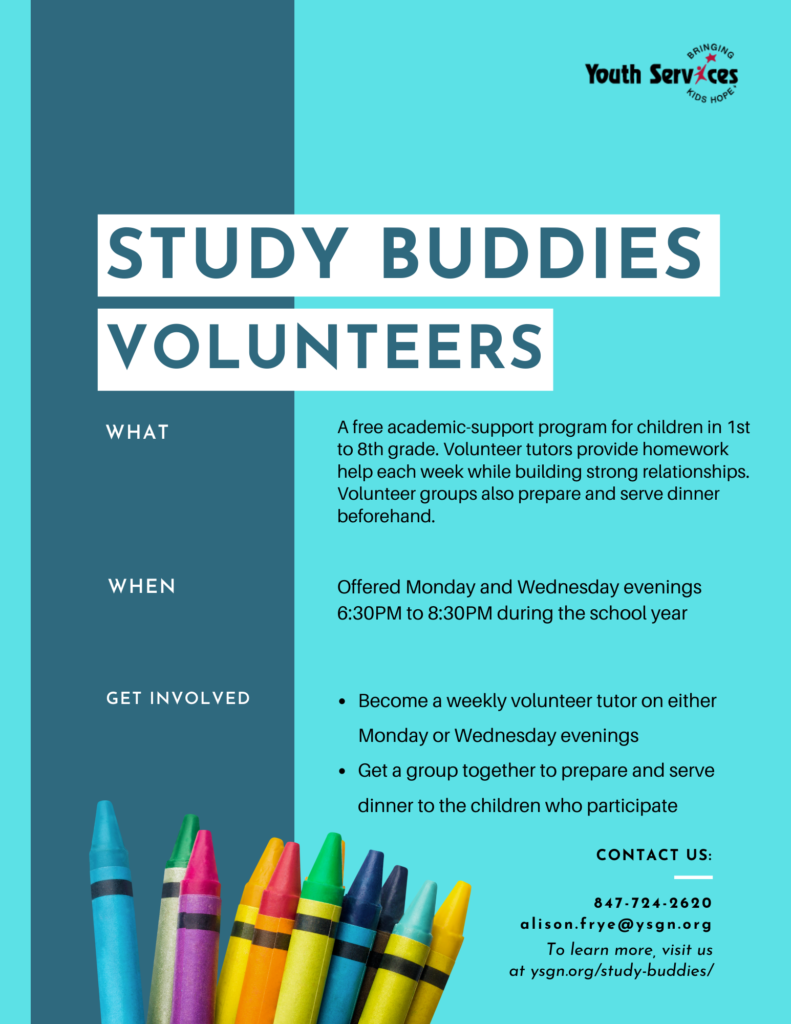 Study Buddies 2022-23 Program
Study Buddies takes place on Monday and Wednesday evenings from 6:30PM to 8:00PM.
First semester runs from September 28th through December 7th.
Second semester runs from January 30th through May 10th.
Our next training will be in August before the 2023 Fall Session.
Want to make a difference? Become a tutor!
Tutors make great role models. Once registered, tutors will be invited to attend an in-person training, which takes place in September for the first semester and in January for the second semester.
Tutor responsibilities include:
> Support assigned student(s) with homework and academic support
> Be a positive role model
> Commit to one evening a week for a full semester or school year
> Be an ambassador for Youth Services and its mission
Are you interested in registering your child for Study Buddies? Or, are you interested in becoming a volunteer tutor, please contact Alison Frye at alison.frye@ysgn.org or call 847-724-2620.
---
"It is very satisfying to me when I can help one of our students understand and master a concept with which they were having difficulty. Last year, I was very proud when a former 8th grade student that I worked with several years ago, now attending Oakton Community College, asked me if she could become a Study Buddy volunteer." -Larry Roubitchek, Study Buddies Volunteer