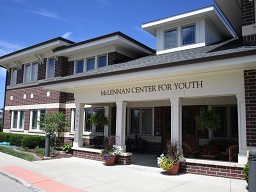 Youth Services believes every child should grow up happy, healthy and hopeful. Our mission is to foster the social and emotional well-being of children and youth.
Our History
Youth Services of Glenview/Northbrook was created from two similar agencies, one serving Glenview (founded in 1972) and the other serving Northbrook (founded in 1974). These entities were merged in 1992 as they had the same mission. The agency originated as a community initiative to create a space for adolescents and teens. The early years of the organization served more as a drop-in place for youth. It realized a greater need and began to be a source of support for these children, focusing its attention on relevant needs.
Youth Services has had several homes; from a small, upstairs office on Waukegan Road to a house at Shermer and East Lake, which is now the site of the Glenview Police Department. On land donated by the Village of Glenview on the former Glenview Naval Air Station property, another location at 3100 West Lake Avenue was built. Because of its modular construction it was affectionately referred to as 'The Trailers' and our home from 2004 to 2009.
While still in the trailers, a capital campaign was begun with the hopes of building a permanent home for the agency. By fall of 2007, half of the funds were raised (approximately $3M). Shortly thereafter, Nutrien (formally Potash) and the McLennan Family promised gifts to complete the bulk of the necessary fundraising. Staff and clients moved into our new building located at 3080 West Lake Avenue in August 2009.
Our Mission
Despite these location changes, Youth Services continued to serve its clients, meeting their needs and supporting their families through their struggles. The agency's mission is to meet the social and emotional well-being needs of children and teens so that they can grow up happy, healthy and hopeful.
The agency's programs have evolved, expanded and contracted through the years, depending on client needs and funding sources. The agency's activity-based model is grounded in therapeutic dialogue and interaction between a counselor/social worker and his/her young client. This approach is our best tactic for engaging with children and their improved mental health.
Current services include individual and group counseling, social skills groups, youth-development and mentoring programs, health education and crisis intervention.
For more information about Youth Services, check out this one-page information sheet. We also have the one-page information sheet in Spanish as well.
---
Youth Services | 3080 West Lake Avenue | Glenview, IL 60026 | Phone: 847-724-2620