Through donations of gifts and money we are able to provide holiday gifts for needy agency clients. Individuals, companies, service clubs and faith based organizations all pitch in to make the holiday one that these children will remember. Children fill out a wish list and we do our best to make sure that all necessities are provided and at least one toy that the child has asked for is given.
Donors can sponsor one or more children, or an entire family. Thanks to our amazing and dedicated donors last year, over 800 individuals in our community were able to enjoy a happy holiday season. Because of this we were able to make the holidays brighter for many families in our community.
Interested in sponsoring a family/individual? Fill out and return the form to Youth Services.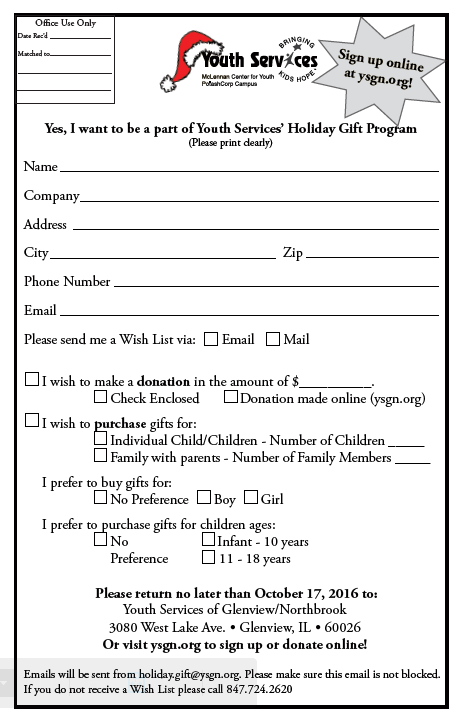 Want more information? Please feel free to contact us at 847.724.2620.
"There are no words to accurately express my sincere thanks to you for your thoughtfulness and unbelievable generosity of the Holiday Gift Program.  The smiles and happiness of my children were truly my best gift of all.  Many thanks." – Parent
"We are thankful for many things and one of them is living here where your agency is.  Thank you for your help during our time of need." – Parent